Donate to the Southern Initative Algebra Project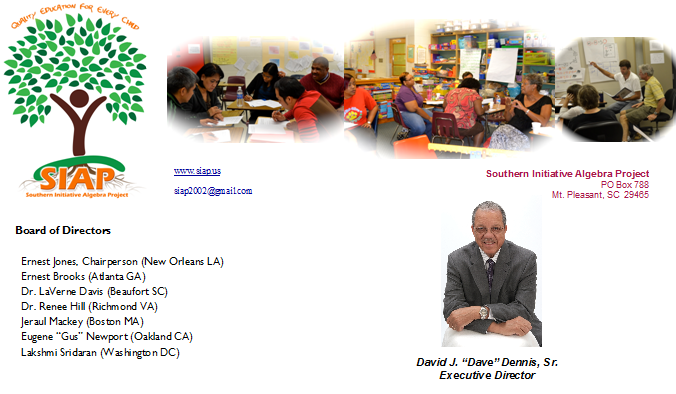 Dear Friends and Supporters of SIAP,
The American education system has not served students of color well.  In 2012, white males had a 4-year graduation rate of 78%, Latino males 60%, and black males only 52% (The Urgency of Now: The Schott 50 State Report on Public Education and Black Males, July 2012).  All subgroups of our graduates--white, Latino, black--were far behind the rest of the developed world in math skills.Parents, youth, and communities must ask for more, must require more, must demand more from our education system because our children deserve more.  All children deserve a quality education that will give them equal opportunity both locally and globally.
The work of the Southern Initiative Algebra Project (SIAP) shows a long history of commitment to supporting quality education for all children and success in helping students to achieve.  SIAP began as a program of Algebra Project, Inc. in 1994 and developed 42 Algebra Project sites in eight states, involving over 4,000 teachers and 50,000 students in whole school mathematics education reform with the goal of having every student succeed in algebra by the end of the 8th grade.
After becoming a separate 501(c)(3) organization in 2002, SIAP in partnership with AP, Inc. continued its focus on whole school reform and on community and school connections. Work centered on professional development for K-12 mathematics teachers, youth leadership development, community and site development and implementation of a K-16 model in collaboration with Historically Black Colleges and Universities (HBCUs).  It was in 2006 with the support of the Cameron Foundation that SIAP, as a component of AP, Inc.,  began planning for the implementation of a K-16 model in Petersburg, VA.  Then in 2007, SIAP, still as a component of AP, Inc., and multiple partners began developing a plan to address education issues along the I-95 corridor from Central Virginia to Georgia.
Using what SIAP learned over the years, a PK-16 Model for Education was developed.  It presents four key components:  professional development for teachers, community/site development, relationships with institutes of higher education particularly HBCUs, and youth initiatives.  Tying these together in a functional unit is the Design Team process.

During the recent SIAP implementation in Petersburg City Public Schools in Petersburg VA, the following was achieved:
the percentage of accredited schools increased from 28.6% to 85.7%,
the percentage of students making AYP (adequate yearly progress) in mathematics  increased from 28.6% to 71.4%,
surpassed the goal of having 75% of students pass the Algebra I SOLs (Standards of Learning) by the end of Grade 9 surpassed by 13 percentage points to 88%. 
a strong math dual enrollment program established with all high school students that have taken College Algebra and Trigonometry and College Calculus passing those courses.
At the request of local entities in Petersburg, SIAP is currently working on a regional initiative that involves five additional Virginia school divisions (districts) interested in the SIAP PK-16 Model.  We are asking for your support  in order to be ready for School Year 2013-2014.  We must: 1) continue the monthly Design Team meetings in Petersburg; 2) develop Design Teams in five other Central Virginia areas; 3) develop and prepare human resources to deliver regional professional development programs, and 4) engage local community-based organizations in the implementation and planning process.
SIAP is also working with educational institutions and community organizations in South Carolina, Louisiana, and Mississippi to institute similar initiatives.
SIAP needs your assistance to continue its work, the work to which it has been committed and at which it has been successful for the last twenty years.
We count on you as a valued supporter of our mission or as a newfound friend.  Please make a tax-deductible gift to the Southern Initiative Algebra Project.  Click the Donate button to make a secure online payment through PayPal or you can write your check payable to Southern Initiative Algebra Project and mail to P. O. Box 788, Mt. Pleasant, SC 29465.
Thank you sincerely fo  your gift and  support,
David J. "Dave" Dennis, Sr.
Executive Director
and The Southern Initiative Algebra Project Family

Donation through check:
Please mail check to PO Box 788, Mt. Pleasant, SC 29465.